Friendship Month is a hit!
We've had a fantastic Oddfellows Friendship Month with over 150 events across the country showing what a fun bunch we are!
Tea for three: Members of the Concord Branch enjoy afternoon tea 
It's amazing just how central food and drink are to building friendship. Lots of our Branches hosted tea and coffee mornings with biscuits and yummy home-made cakes to welcome newcomers. Some put on games and quizzes to get the conversations flowing. 
Others organised trips to local restaurants and some to the seaside – where inevitably ice-cream and fish and chips featured heavily in the day's highlights!
A few Branches tried to balance out any extra calories consumed with activities like ten pin bowling and ballroom dancing.
Dancing the afternoon away: Members of the Mid Surrey District put on their dancing shoes for an afternoon of ballroom dancing 
Others enjoyed cultural trips to the theatre or hosted a film night ("supper provided!"). Members visited a huge variety of attractions, including the Blackpool illuminations, the recently re-opened Postal Museum, the National Waterways Museum and the Poppy Factory.
Branches also held interesting talks on subjects from catching smugglers to Jack the Ripper and Victorian crime.
Oddfellows CEO Jane Nelson said: "This was our eighth Friendship Month and each year it just gets better and better. We're called a Friendly Society and my goodness we are! We've welcomed hundreds of newcomers to our events this month and demonstrated we're a warm, imaginative and active organisation."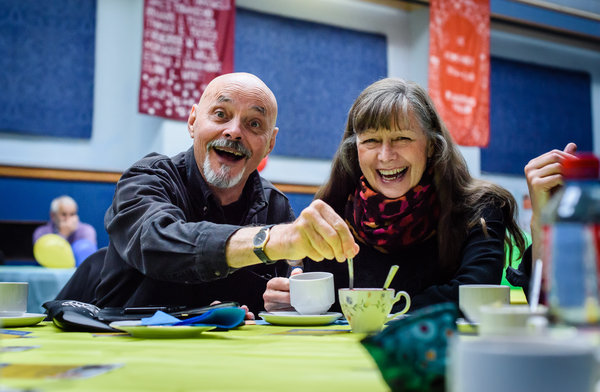 Tea and harmony: Members of the Phoenix Branch enjoy a giggle over tea, scones and a harmony choir performance 
Friendship Month might be over but we're still busy enjoying ourselves and you'll still find a very warm welcome. Find out what's going on near you using our events finder. Come and join in the fun!  
Ray of sunshine: Young Oddfellow, Holly Casey enjoys Leigh & Bolton's face painting at their Friendship Open Day 
A guide to making friends
To help celebrate Friendship Month the Oddfellows has produced a free "Guide to Making Friends." It's full of useful tips on where to go to find friendship and how to make friends. At the back is a Directory of useful organisations for those looking to extend their circle of friends. Click here to download your copy – it's made for sharing!