Friendship after loss - Tony's story
When Tony's wife of 17 years, Rosemary, passed away in 2016, he felt completely lost. She wasn't just his wife, but a very close soulmate. They had travelled the world together and created many happy memories. He was tired of feeling alone and reached out to his local Oddfellows friendship group for support.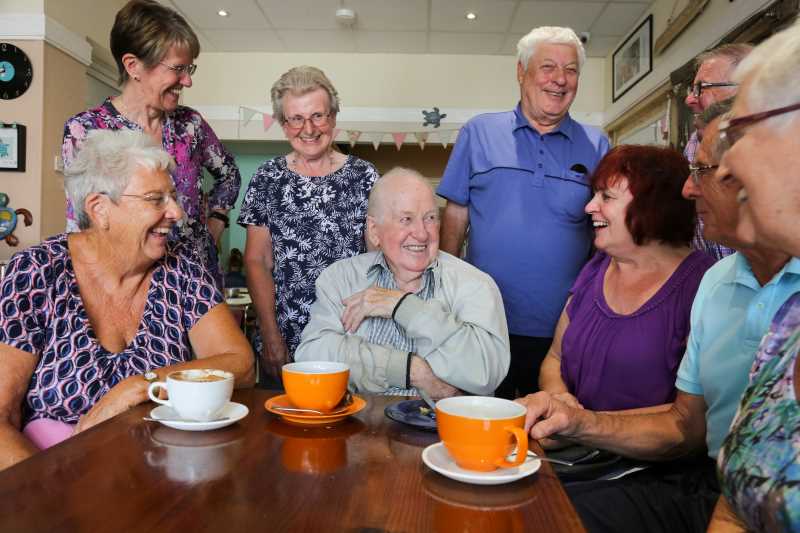 Now among good friends at Bournemouth Oddfellows.
Tony, 87, from Bournemouth, made the brave decision to share his story in the hope that others in a similar position can find the courage to take their first step to joining in again and meeting new people.
Said Tony: "I had known about the Oddfellows for years, but after Rosemary passed away, I felt alone and I became curious about what they could offer. I wanted to get out and start living my life again. So a couple of years ago, after seeing an Oddfellows advertisement, I decided to pop down to the local group and see what they were all about.
"Getting involved in the group has had a huge impact on my life. Since joining, I've become part of a social scene again and it has helped raise my spirits and beliefs that great friendships can be made at any age. I stay in touch with really kind people and have things to look forward to all the time," he added.
I was quite nervous going to my first meeting, but as soon as I walked through the door I was met with welcoming smiles.
Friend, Margaret White, and Branch Secretary for the Pride of Bournemouth Oddfellows, said: "Tony is such a character, so charming and caring. We understand it's not always easy to get yourself out there and try new things, especially when you've lost someone so close, but that's exactly why the Oddfellows was founded – to help people make friends and offer support. We encourage anyone in a similar position to come and try one of our events."
Added Tony encouragingly: "I was quite nervous going to my first meeting, but as soon as I walked through the door I was met with welcoming smiles. I immediately felt at ease and knew I'd made the right decision. I'm not as mobile as I once was, but with the support of the group and fellow members, I've enjoyed a variety of activities including evening socials, meals out and regular cake and coffee mornings."
With a renewed spring in his step, Tony concluded: "I wasn't sure I would make friends this late in my life, but being part of a local social group has given me a renewed confidence to try new things and meet new people. I hope my story inspires others in the same situation to be brave, get out there and enjoy life with new friends. If you're thinking about joining a local friendship group, do give the Oddfellows a try."
From coffee mornings and afternoon teas, to lunch clubs and guest talks, the Oddfellows' local Branches hold regular events and activities throughout the year.
To receive a free information pack about joining the Oddfellows and to receive a copy of your nearest Branch's forthcoming events diary, call 0800 028 1810, or email enquiries@oddfellows.co.uk.
If you've recently lost a partner, why not take a look at our First Steps page, which contains some useful guides and information on how to make meeting new people feel a little less daunting.