Friends, the secret to a healthier, longer life
Scientists around the world are coming to the same conclusion – friendship is a lifesaver. Academics at the University of York have looked closely at more than 20 studies involving over 180,000 people. Martin Stott reports.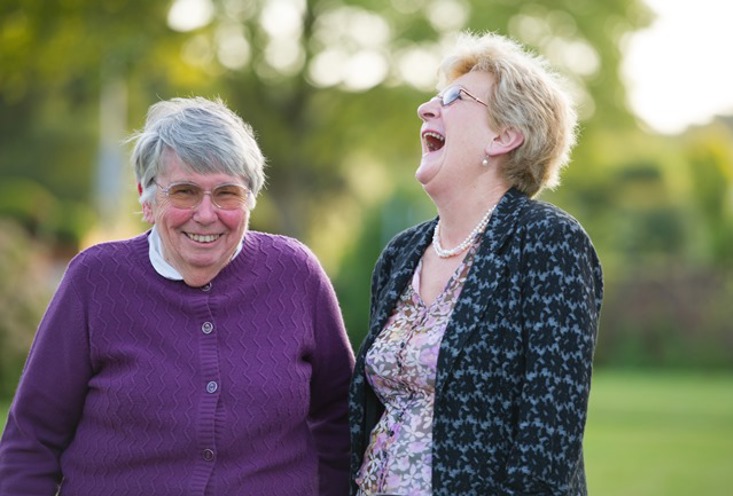 (L-R) Members and friends, Rita Massingham and Judith Lawson.
They reported in April that those with close friends are nearly a third less likely to suffer heart disease or strokes.
They say tackling loneliness could help hundreds of thousands of people live longer, happier lives.
And they are not alone. Research elsewhere backs up their claims.
Earlier this year the British Journal of Psychology published a study showing that social interaction also helps guard against depression and reduces stress.
Sociologists at the University of Carolina in the US have found that not having friends is more harmful than either diabetes or hypertension and that the lonelier we are, the greater the risk of us becoming obese.
Scientists at the University of Oxford have even demonstrated that friendships can be a powerful painkiller. Their research showed that people with a healthy social circle produce more endorphins, the chemicals in the brain required to tolerate pain.
"The findings underline why there's so much to gain from joining a group like the Oddfellows, which promotes friendship," says CEO of friendly society the Oddfellows, Jane Nelson "Our own research reveals that 80% of Oddfellows members are happy, compared with 69% of the general public.
"For more than 200 years we've championed friendship and how good it is for your mental and physical wellbeing. It's reassuring to hear that this is so widely supported by external research."
When people think about healthy lifestyles, they are most likely to look at what they eat and the amount of exercise they take.
If we are serious about creating a happier and healthier society then the prevalence of loneliness must be recognised and reduced.
However, while keeping active and eating properly are hugely important, there is a growing understanding among scientists of the role that spending time with friends plays in keeping together both body and soul.
"It's becoming ever clearer that people who are particularly unhappy about their social relationships and lonely are at increased risk of dying early," says Nicole Valtorta, who worked on the University of York study linking a lack of social contact with heart disease and strokes.
"Heart disease and strokes are among the biggest health problems in the developed world. Most of us recognise things like obesity and physical inactivity as major contributory factors, but our research shows that we need to think much more about social isolation and loneliness too."
Tackling loneliness
Figures from the Mental Health Foundation show that 7.6 million people now live on their own in the UK and one in 10 people experience feelings of loneliness.
"The UK is now one of the loneliest places to live in Europe," says Mark Rowland, the Foundation's Director of Fundraising and Communications. "If we are serious about creating a happier and healthier society then the prevalence of loneliness must be recognised and reduced."
That means making friends. Here, again, scientists have some interesting findings. The University of Carolina team discovered that older people are like teenagers when it comes to friendships. What matters most is how many friends we have, whereas in middle age – perhaps when we are busiest – it is the quality of friendships that count.
Researchers in Australia seem to back this up. Scientists at the Centre for Ageing Studies at Flinders University have found that those who spend time with close friends live longer and those with the largest number of friends live the longest of all. So friendship can help guard against depression. It can reduce the risk of heart disease, strokes, diabetes and dementia. It can even be a painkiller. And the more friends we have, the longer we are likely to live.
"We need to see friendship as a much more important health issue," says Oddfellows CEO Jane Nelson. "We all know we're supposed to eat five pieces of fruit and veg a day, but maybe we should add having a cup of tea with a friend to that daily target. And, just like we're supposed to have a colourful variety of fruit and veg, it seems we need a broad range of friends too!"
Search for Oddfellows events nearest to you by using our Events Finder or get in touch with our Membership team.