DIY how to: shelves
Whether for your home or for the garden shed, with the right tools and attitude, putting up a shelf should be no problem even for the most inexperienced of DIYers.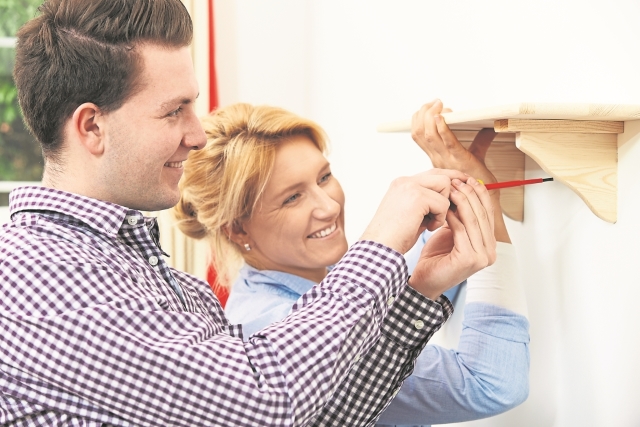 First chose your shelf
Pine boards are versatile and can be painted, stained and varnished or treated with oil.
Melamine shelves are normally white and prefinished so there's no need to paint or seal them. Wood effect come in a variety of finishes such as beech, maple, ebony and pale oak.
You can usually buy them from a DIY shop in several sizes and they often come in kit form so you can buy all the things you need to assemble them.
Choosing the right fixings
Choosing the right fixings for a specific type of wall is key for secure shelving. If you're using screws, it's quite simple to work out the length of screw you'll need: firstly, drill a guide hole in your wall where you will place the shelves, this will allow you to assess the thickness of your plaster. Then simply add the thickness of your plaster to the depth of the bracket or track, then add a further 30mm.
On brick or concrete block plaster walls use heavy-duty plastic wall plugs and wood screws – 3.2mm or 5.5mm.
For lightweight block with plaster finish use universal plugs.
On stud walls with skimmed plasterboard, it's always best to screw into the wooden studs (use a stud detector). And don't use wall plugs – just screw straight into a pilot hole.
If you can't screw into a stud, use hollow wall fixings but limit the load on your shelves.
Getting prepared
Use a cable and pipe checker and mark the position of cables or pipes, then move all your furniture out of the way and put down a dust sheet.
Hanging a single shelf on brackets
Make a mark on the wall where the bottom of the shelf will be. Draw a horizontal line from this point using a spirit level.
Mark the ends of the shelf on this line and vertical lines where the brackets go – ie 100mm-150mm in from either end of the shelf.
Hold a bracket against the wall with a piece of wood on top of it where the shelf would be. Line it up with the vertical and horizontal marks on the wall. Mark the screw holes with a pencil.
Use a hammer drill and masonry bit to drill holes that suit the wall plugs or fittings you're using.
Insert the plugs and screw the brackets to the wall.
Finally, screw your shelf to the brackets - you don't want it to tip.
If you are putting up more than one shelf follow the same method but use a spirit level to make sure the shelves all line up.
Are you a bit handy? Share your top tips or DIY disasters with us at news@oddfellows.co.uk.