Celebrating Friendship Month 2021
Updated: 06 Oct 2021
Friendship Month is always a special time of year for the Oddfellows, however 2021's celebrations felt very different from the rest. While we'd been there for each other during the pandemic, we'd really missed having a laugh side-by-side. In September, that all changed.

Reuniting friends and making new ones
Friendship Month is our national awareness month, where we celebrate the importance of friendship and encourage communities to come together and enjoy each other's company.
This September, our UK Branches hosted 172 face-to-face events and no less than 100 online meet-ups. The events reunited members and gave newcomers the warmest of welcomes, at a pace that was right for them.
Reflecting on the events, Oddfellows CEO Jane Nelson, said: "Some people are very ready to get back out and socialise again, some are still exercising caution, and others are looking for a more gentle reintroduction. We're very conscious of this and made sure we put on a wide range of events – some outside, some inside, some online. Hopefully something for everyone."
Celebrity support
We were thrilled to have 'The Destroyer', Shaun Wallace, from ITV's The Chase on board to launch Friendship Month with a special recorded message to members and their friends and family.
Shaun also joined our CEO, Jane Nelson, to air the results of a special Oddfellows survey into friendships and the pandemic through 19 regional radio interviews.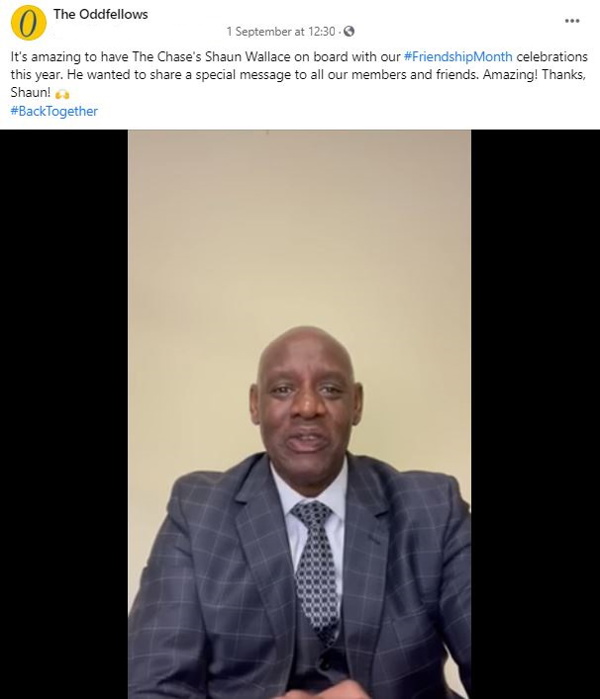 Other broadcasts included the second in the series of the 'Oddfellows in conversation' podcast. Jane joined guest presenter, Dom Burch, to talk further about the survey findings and reflect on the events of the past 18 months.
A surprise appearance from Coronation Street actor, Will Mellor, also delighted those attending an afternoon tea event at the Alma Lodge in Stockport. In the spirit of friendship, he was more than happy to mingle and pose for photos.
Actor, Will Mellor, dropped into one of Combermere Branch's events – shown here with Branch Secretary Pam Casey, left, volunteer event host Jackie Honey, top right, and Social Coordinator Sarah North, bottom right.
Valuing friendships more than ever
The survey of 2,000 over 60s in the UK looked into whether the pandemic had changed how we value friendships.

Despite being kept apart, reassuringly the pandemic brought many people closer together. Over half (56%) reported that the pandemic has made them value friendships more than ever and one in 10 (12%) have reignited a friendship that was once lost.

Having a coffee or drink with friends was the most missed friendship activity for those aged 60 or over, followed by going for a meal (43%) and going round to their friend's house or hosting them at their own home (39%).
Events with a buzz
Social Organiser, Wendy Atkins, from Ipswich Oddfellows said: "We restarted our weekly activity sessions and seated exercise classes, held a fish and chip lunch and welcomed new members and guests to a wine and nibbles evening. Everyone couldn't stop chatting! It was amazing and we're so happy to be back together and have some new faces join our group.
"Our monthly Busy Fingers craft event for Friendship Month was just brilliant because we had people from all over the country with us. That's the beauty of our online events, people can join us from wherever they are, they can have a laugh and keep their days busy. The more the merrier we say!"
Emma Marshall, Bradford Oddfellows' Social Coordinator, said: "We've had a fabulous time celebrating Friendship Month. There's been brilliant attendance at our events. People were in real high spirits and very happy to be back spending time together with their Oddfellows friends.

"We had a curry night, a cream tea afternoon, an evening of live entertainment, a fundraising dinner and a friendship walk. The whole month has been a complete delight to host."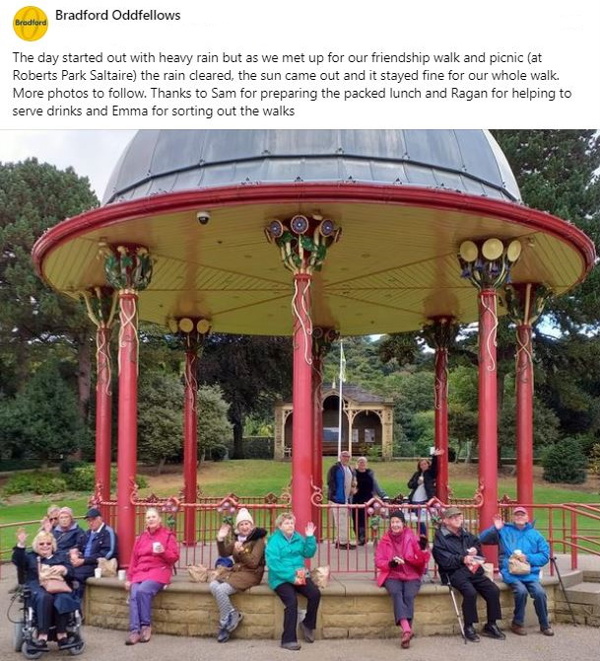 Branch Secretary for Brighton and Sussex Oddfellows, Michael Porter, said: "After a difficult 18 months with no actual face-to-face contact, Friendship Month has been a revelation.
"Friendships are being re-established and we have been able to welcome a good number of new members to our group. Long may it continue!"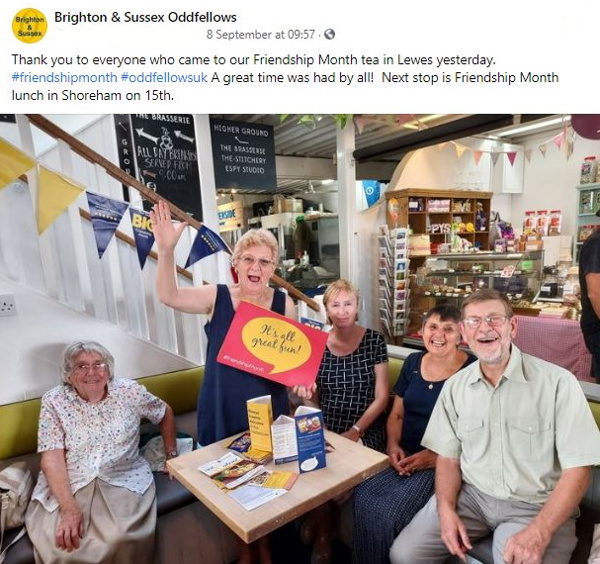 Jane added: "It's been fantastic to see so many members and new faces come together to celebrate Friendship Month this year. I'd also like to say a huge welcome to those who have joined our Society this September and taken that first step in creating many wonderful Oddfellows friendships.
"Thank you to all our Branches and member volunteers who have worked tremendously hard to host the events, and for giving us the social buzz and lift we all desperately needed."
Year-round friendship and support
If you missed out on a Friendship Month taster event this year, there are still lots of events happening across the country and everyone is always welcome to give one of our groups or online meet-ups a try.
We also host regular online open days, which are the perfect way to fact-find if you're thinking about becoming a member.
Search for an event that's happening near to you by using our Events Finder. Alternatively, contact our Membership team, or use our Branch Finder to find out where your nearest Oddfellows friendship group is based.
To see more coverage of Friendship Month and to keep up to date with future events, Society news and more on social media, find us on Facebook and Twitter.