Cash boost for Norfolk's rescue horse sanctuary
Heart of Norfolk District Oddfellows, based in Dereham, took a trip to Redwings Horse Sanctuary in Aylsham last month to present the lifesaving equine charity with a £1,350 cheque in support.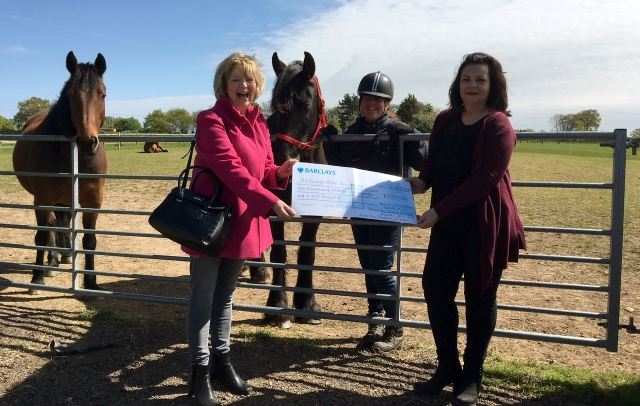 Rosemary Fraser, Oddfellows District Chairman presents £1,350 to Debbie Scott, Fundraising Manager, Redwings Horse Sanctuary, rescue horses Taz and Maya and horse-handler Chany Whiting-Smith.
The money was raised through fundraising activities at events, as well as individual contributions from the group's members.
Oddfellows District Chairman Rosemary Fraser who presented the cheque, said:
"I visited Redwings last summer with my granddaughter and absolutely fell in love with the place. Hearing the horses' heart-breaking stories and seeing them so happy in their new home at Redwings absolutely blew me away. I'm so delighted we could help out."
The largest horse sanctuary in the UK, the charity provides daily care for over 1,500 abandoned, mistreated and neglected horses, ponies, donkeys and mules across their five sites.
Debbie Scott, Fundraising Manager at Redwings Horse Sanctuary said: "I'd like to thank Rosemary and everyone at the Oddfellows for their support – it really does make the difference. The donation will go towards essential veterinary treatment, rehabilitation and lifelong care for our four-legged residents."
Oddfellows Branch Secretary Paula Grigglestone, added: "If you're looking to be more active in the community locally through fundraising or volunteering opportunities, or simply would like to meet new people while enjoying some fun activities along the way, then get in touch. There's a warm welcome guaranteed."