Bold as Brass
Brass bands pop up everywhere - from a blockbuster film like 'Brassed Off' and the opening ceremony of the London Olympics to providing the entertainment at a local village fete! So why are brass bands so engrained into the fabric of communities across the country?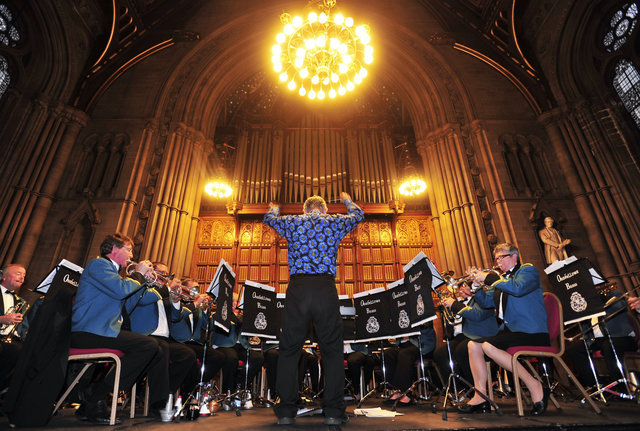 Oddfellows Brass in concert
The brass band tradition goes back a long way with strong links to the industrial revolution in the early to mid 19th century. Owners of coal mines would support their workers to join brass bands – initially to try and distract disgruntled workers. The movement took off and bands became very competitive.
Most brass bands were originally works bands or sponsored by companies. Although many of them disbanded following the demise of the coal industry, others survived, still with strong links to their origins e.g. Grimethorpe Colliery Band, Black Dyke Mills Band and Cory Workmen's Band – the names may have changed slightly but they all still exist today.
Many contesting and community brass bands still struggle to survive, Rob Boulter, Musical Director of Oddfellows Brass comments, "Without a sponsor or some form of backing, it's hard for many brass bands to make ends meet. We're lucky to be supported by the Oddfellows Friendly Society and we do additional fundraising where we can."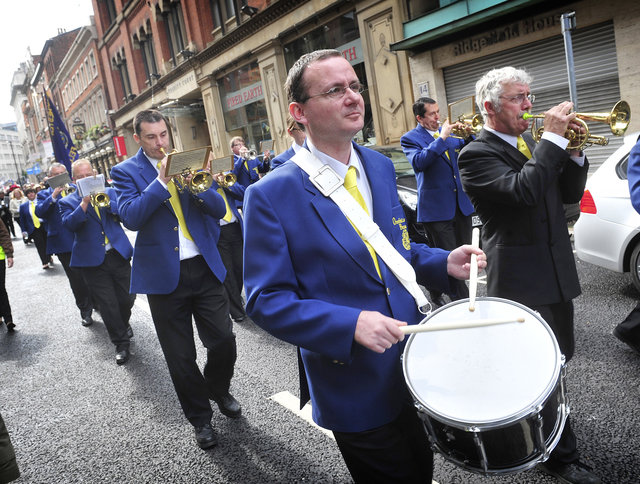 Oddfellows Brass on parade 
Competitions are held throughout the year and bands can be promoted or relegated in and out of different sections – very much like football league tables. "Competitions are a lot of hard work", says Rob, "most bandsmen and women do this as a hobby, they also work full-time or have other commitments and on top of that they have to rehearse two or three nights a week, sometimes more if contests are coming up."
One of the earliest competitions was in 1853 when John Jennison, the owner of Belle Vue in Manchester staged the first British Open Brass Band Championships – an event apparently attended by around 16,000 people.
Brass bands are accessible – people join them from all walks of life, coming together through their love of playing the instruments and music. Brass bands are also versatile in that they can perform marching through streets, in concert halls or outdoors in bandstands or even allotments. In fact, the Victorian bandstands where they performed in the early days still exist in many parks and other venues today.
Brass bands are also considered to be inclusive - typically made up of around 25 people with varying levels of skill. Many brass bands encourage young players to join - their playing skills developed in the hope they will eventually become permanent adult performers in the band.
Brass bands are still performing great live music for thousands of people across the country.
To find out about Oddfellows Brass, the official band of the Society or to find a concert near you, visit their website at www.oddfellowsbrass.co.uk.