A 'happy constant' for lonely John
Updated: 19 Apr 2021
John Leggett, 73, from Ipswich, said his life was turned upside down when his wife Mary went into hospital after a fall and never returned home, instead being moved into a nursing home with 24 hour care.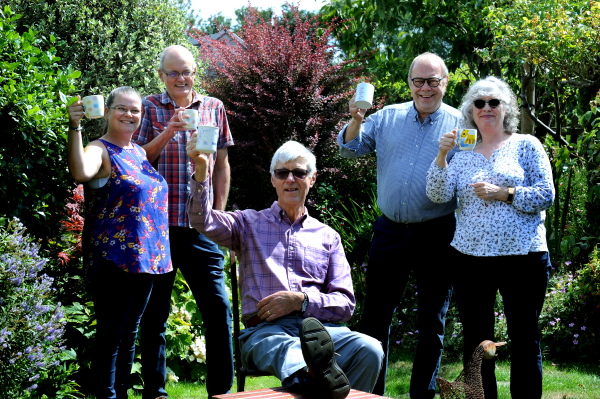 John enjoys a brew with other members of Ipswich Oddfellows
But he says the support of the Oddfellows – which has remained constant throughout the pandemic – has been a lifeline.
Additional family
John, who is a member of our Ipswich Branch, said: "The Oddfellows is one of the few places I go where I feel totally comfortable.
"It's like a family, it's lovely to just have someone to chat to, but you also get an emotional support that you can only really get from your peers or people who perhaps have been through a similar thing.
"My wife is always on my mind, but lots of people ask about her and it makes me feel good to talk about our happy memories. Our relationship has changed a lot because of the dementia but the Oddfellows is a happy constant."
He added: "Lockdown has been hard because we can't go to our regular meetings. The Zoom calls took a bit of getting used to, but I was given a lot of support to work it out and I know what I'm doing now. I'm not going out but I'm still enjoying a lovely social evening with some very pleasant company, I thought it was fantastic.
"What was also nice was that it was open to Oddfellows members across the country, so there was a man from London talking about the foxes and his garden, and a couple from Yorkshire talking about their experiences, it was great!"
John, a keen gardener, shows Oddfellows members his successful allotment
Happy memories
John said even though he is able to see Mary regularly, with twice weekly video calls during lockdown, her absence from the home has left him feeling lonely and isolated, a gap which the Oddfellows goes some way to filling.
He said: "We were a very happy couple, we did everything together, so when she wasn't there it was very uncomfortable. It's not grief because I get to see her, but our lives have changed dramatically.
"We didn't think about it at the time, but we were equal, we cared for each other. It's interesting because now she's in a care home I realise how I needed her just as much as she needed me, both for the social and the welfare side."
The Oddfellows is one of the few places I go where I feel totally comfortable. John Leggett, Member of Ipswich Oddfellows
A new social network
John, a retired cabinet maker and landscape gardener, investigated the Oddfellows after spotting a familiar face on one of its adverts and realising it could be a great way to socialise.
He said: "I had thought about the Oddfellows and sent off for information but hadn't really done anything about it. One day I was looking through a magazine and I saw the face of someone I knew in the advert for Oddfellows. We were friends through the RSPB so I asked her a little bit about it when I saw her next and she encouraged me to join."
He added: "It's been very worthwhile. I feel comforted that Mary is being looked after and my time at Oddfellows is a bit of company for me. I've been to other groups and they just haven't been for me, you go in and listen to a talk or something and then that's that. At the Oddfellows someone always comes and sits with you and has a chat, it's lovely."
Friendship isn't just for the good times. Friends provide support through thick and thin – and so do the Oddfellows. Lynne Wyatt, Ipswich Branch Secretary
Lynne Wyatt, Branch Secretary at the Oddfellows Ipswich Branch, said: "2020 has seen a big shift in the way we work, live and most importantly, socialise. At the Oddfellows we recognise that people still want, and need, to meet up and make new friends – whether that's safely out in the community or from the comfort of their own home."
Here through the good times, and the difficult times
The Oddfellows was originally set up in 1810 to offer workers and their families insurance should they fall on hard times. Today, the Society continues to provide help to its members through difficult periods, with care, welfare and financial support.
Lynne added: "Friendship isn't just for the good times. Friends provide support through thick and thin – and so do the Oddfellows. Many people think we just put on social events, but the Oddfellows, like your friends, provides so much more.
"It's not just lockdown that can cause people to lose touch. Bereavement, caring responsibilities, moving away, family leaving home, retirement and many other life changes can leave anyone, no matter their age, open to feelings of loneliness and isolation."
You can use our Branch Finder to see which of our Branches is closest to you, or take a look at our Events page to see what's happening online, or nearby.  
You can also request a free membership pack by visiting our Contact Us page, or calling the Membership Team on 0800 028 1810.